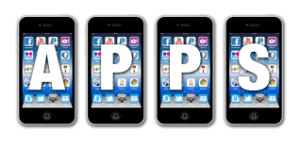 The wonders of technology and creative innovation has significantly improved most areas of life with mental health being no exception. Cell phones are now akin to house key – we have them on our person or closely available most of the time. Unlike house keys, cell phones have multi-functionality beyond making calls, sending texts and taking pictures.  Cell phone apps can be used to improve mental health or accompany psychotherapy. Some apps must be purchased.  There are many that are free paid for by advertisers who are anxious to market their products. Several free meditation/mindfulness phone apps will be presented.  The apps can be used as an aid to ongoing psychotherapy with a professional clinician or as a independent tool used to improve mental health and well-being. The apps described are for both i-phones and androids. This article is first in a series.
Meditation Phone Apps
Headspace – contains guided meditations appropriate for all levels of practice from beginner to advanced. Meditation can help improve your focus, exercise mindful awareness, relieve anxiety and reduce stress.
Stop, Breathe, Think –  contains a short tutorial that allows the user to learn about meditation. The app provides information on what to expect and why it helps from a scientific perspective of the mind/ body stress response.  30 free sessions are given.
Insight Timer –  contains a buffet of 4,000 guided meditations from over 1,000 meditation instructors who provide talks and podcasts. You can also see how many people are meditating at the same time as you are, and get data on meditators in your geographical location by setting your location.
Aura –  sends a different meditation everyday and gathers individual-specific information such as age, stress level, level of optimism and interest in mindfulness in order to customize your daily meditation.
Calm –  the app begins the sessions with various choices of soothing sounds.  Then, the user can choose from 16 meditations that range from 3 to 30 minutes in length which my be enjoyed either silently or with intermittent bells.  Calm also has four free bedtime stories for adults to help with falling asleep.
Submitted by Holly O. Houston, Ph.D.